What we are selling is the information that will get you the full version of Microsoft Office 2000 Premium, Microsoft Windows 2000 Professional, Windows 2000 Advanced Server, SQL Server 2000 Developer Edition, Exchange 2000 Server and Conferencing Server, and Project 2000 directly from Microsoft. This is the best office software available for $449. A huge discount from the retail price and you get it directly from Microsoft, this is the full version of all of these programs.




The best in Microsoft Productivity Software


Save Thousands on Microsoft Software!


We have the secrets of this unadvertised, simple method of buying directly from Microsoft. And the best thing about it is anyone can qualify




Microsoft Office Premium


Direct from Microsoft
New With Box and Manual


These are some of the programs you get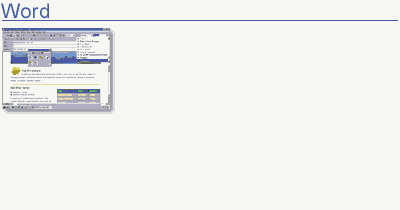 No, this is not a joke
Microsoft will even train you to use it

What You Get from Microsoft
Full versions of all these programs

Microsoft Word 2000
Microsoft Excel 2000
Microsoft FrontPage 2000
Microsoft PowerPoint® 2000
Microsoft Access 2000
Microsoft Publisher2000
Microsoft PhotoDraw™ 2000
Microsoft Small Business Tools
Microsoft Office Server Extensions
Microsoft Internet Explorer 5.0
Microsoft Outlook® 2000
Microsoft Vizact 2000
Microsoft Office 2000 Premium Edition
Microsoft Windows 2000 Professional
Windows 2000 Advanced Server
SQL Server 2000 Developer Edition
Exchange 2000 Server and Conferencing Server
Project 2000
Tons of Microsoft Clip Art

All the software will be sent to your door along with an unique ID number for additional online training and support, and all the manuals and certificates that come with Microsoft software.

What You will get:

Information on how to get Office 2000 Premium (and the other $10,000 worth of Microsoft software) for $499
All of this in one simple email, no shipping costs



Please Note: I AM NOT offering the sale of actual software, but the information on how to obtain these programs for discounted prices. I do not sell any of these titles myself, they come DIRECTLY from Microsoft. And they will even say "Thank You!" when you buy this amazingly discounted software! By bidding on this auction you will secure yourself an opportunity to purchase this Microsoft software package for only 499.00 directly from Microsoft.


Why would Microsoft want to sell so cheap?
When Microsoft comes out with a new product, they spend Millions for marketing and advertising to let people know about it. Why? OF COURSE! So people will buy their $795 product! They are looking for business people that have (or eventually will have) contact with the public in the area of computers or the web. They know that by giving those people a SUPER DEAL on their software (and showing them how to use it) that those same people will influence their clients and customers to buy more Microsoft products from their favorite retailer! Word of mouth advertising is a far more efficient use of their money than spending 2 million dollars on a Super Bowl commercial.


So What's the Catch?
Well here it is

This Software is offered as NFR (Not for Resale) So you can not resell it

. You get $10,000 worth of software for $499, don't abuse the gift. Microsoft will only ship this offer to those who live in the USA, Canada or Puerto Rico. If you live in outside of their shipping radius you will have to arrange shipping. To the available countries Microsoft will ship 2nd day air so you can get your software fast. Shipping charges do apply (depending on where you live, $6.50 to $12.75).

Our information covers everything you need to know, order it for $4.

Back to the Auctions and Sales Page
Back up to the top
Copyright © 2004 Karlsnet.com. All Rights Reserved.
[an error occurred while processing this directive]